Oldsmobile auto onderdelen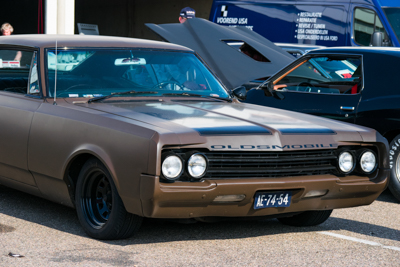 Op zoek naar Oldsmobile parts?
Originele, of after market, Oldsmobile parts bestel je online bij US-Partscenter. Of het nu gaat om Oldsmobile Delta Royale parts, Oldsmobile Cutlass Supreme parts of Oldsmobile 442 parts. In onze webshop tref je jouw classic Oldsmobile parts ongetwijfeld aan.
In onze geheel nieuwe online Oldsmobile parts catalogue tref je 3 miljoen onderdelen aan! Niet alleen tref je hier Oldsmobile parts aan, maar ook die van Cadillac, Chrysler, Corvette, Chevrolet USA en Ford USA.
Oldsmobile: misschien wel het oudste merk auto ter wereld. Opgericht in 1897, opgekocht door General Motors in 1908 en in 2004 besloot GM met het merk Oldsmobile te stoppen. Op 29 april 2004 werd de laatste Oldsmobile, een rode Alero, gebouwd als laatste van een speciale serie van 500. Oldsmobile bestond toen 107 jaar en had in totaal 35.229.218 auto's geproduceerd. Wist je trouwens dat Oldsmobile In 1973 de eerste was die in de Oldsmobile Toronado de airbag introduceerde?
Oldsmobile Parts Catalogue Online
US-Partscenter (v/h Partscenter Holland en C&P USA Parts) beschikt over drie magazijnen gevestigd in Dallas, Rotterdam en Venlo. Met ruim 3.000 vierkante meter magazijnoppervlakte en meer dan 80.000 onderdelen op voorraad, leveren wij middels luchtvracht praktisch op dagelijkse basis binnen Europa. Of je nu op zoek bent naar Oldsmobile remblokken, remschijven, bougies, oliefilters, performance parts, onderhoudsmiddelen of schade en restauratie delen? Je Amerikaanse auto onderdelen vind je bij US-Partscenter. Wij leveren zowel aan bedrijven als aan particulieren.
Het opzoeken van Olsmobile onderdelen hebben we zo eenvoudig mogelijk gemaakt. Zoeken kan door:
✔︎ jouw voertuig te selecteren
✔︎ het VIN nummer (Vehicle Identification Number) in te voeren
✔︎ direct het artikelnummer in te voeren
Het ruime assortiment auto onderdelen hebben wij professioneel gerangschikt in onze Oldsmobile parts catalogue. Bij het samenstellen van het assortiment Oldsmobile parts gaan we terug naar de '50er jaren tot aan het laatste productiejaar in 2004.
Levertijd Oldsmobile onderdelen?
Amerikaanse auto onderdelen importeren doen we al sinds 1984. Door onze jarenlange ervaring hebben wij een zeer compleet en doelgericht assortiment samengesteld in onze webshop. Uitstekende kwaliteit, scherp geprijsd en razendsnel geleverd! Check onze actuele voorraad in onze Oldsmobile parts catalogue! Bij twijfel, neem dan telefonisch contact met ons op. Er zit een team van Oldsmobile specialisten klaar om jou van advies te voorzien. We're here to help you.
Eenmaal besteld wil je je Oldsmobile Delta 88 Royale parts of Oldsmobile Cutlass Supreme parts natuurlijk zo snel mogelijk in huis hebben. In onze webshop kun je onze actuele voorraad 'live' bekijken. Zie je dat het onderdeel op voorraad is in één van onze magazijnen in Nederland, dan wordt het onderdeel de volgende werkdag bezorgd. Onze levertijden zijn als volgt:
✔︎ op voorraad in onze magazijnen in Nederland en voor 15:00 uur besteld → volgende werkdag in huis
✔︎ op voorraad in onze magazijnen in Amerika en voor 15:00 uur besteld → na 5 werkdagen in huis
✔︎ op voorraad bij onze leveranciers in Amerika en voor 15:00 uur besteld → na 8 werkdagen in huis
Oldsmobile parts leverbaar voor vele modellen!
Hieronder een overzicht uit de modellen waarvoor wij Oldsmobile onderdelen op voorraad hebben. Bij het samenstellen van ons assortiment hebben we aan de complete line-up aan modellen van Oldsmobile gedacht. Onze voorraad onderdelen voor Amerikaanse oldtimers gaat terug tot modellen uit een ver verleden. US-Partscenter kan onderdelen leveren vanaf bouwjaar 1948. Opzoeken van Amerikaanse auto onderdelen doe je dan ook het beste in onze zorgvuldig samengestelde online parts catalogue.
| | | | |
| --- | --- | --- | --- |
| Achieva | Custom Cruiser | Firenza | Silhouette |
| Alero | Cutlass | F85 | Starfire |
| Aurora | Cutlass Calais | Golden Rocket 88 | Toronado |
| Bravada | Cutlass Ciera | Intrigue | Vista Cruiser |
| 88 | Cutlass Salon | Jetfire | |
| Deluxe 88 | Cutlass Supreme | Jetstar 88 | |
| Standard 88 | Cutlass Tiara | Jetstar I | |
| Super 88 | Delta 88 | LSS | |
| 98 | Delmont 88 | Omega | |
| Calais | Dynamic | Regency | |
| Classic 98 | Fiesta | Series 76 | |
Wij leveren o.a. de volgende onderdelen van het merk Oldsmobile:
olieluchtfilter - oliefilter - remschijven – remblokken - remslang - interieurfilter - bougies – bougiekabels - pakkingen – wiellagers - multiriem spanrol – dynamo – startmotor – sensoren – accu - uitlaat – radiateur - thermostaat - waterpomp -carterpan – bobine – ruitenwisser – spoorstangeind - filterkit - uitlaatspruitstuk -knipperlicht - koplamp – achterlicht – mistlamp - spiegel - schokdemper - fuseekogel draagarm - remtrommel – remschoenen – plaatwerk - banden.
Oldsmobile specialist nodig?
Wil je advies of overleg met een Oldsmobile specialist over welk onderdeel jij nodig hebt voor jouw Amerikaanse auto? Onze deskundige adviseurs helpen je graag verder. Bel ons, houd het chassisnummer bij de hand en wij zorgen dat je het juiste onderdeel zo snel mogelijk in huis hebt - vaak al binnen 24 uur!
Oldsmobile: The Past Is Today's Vintage.